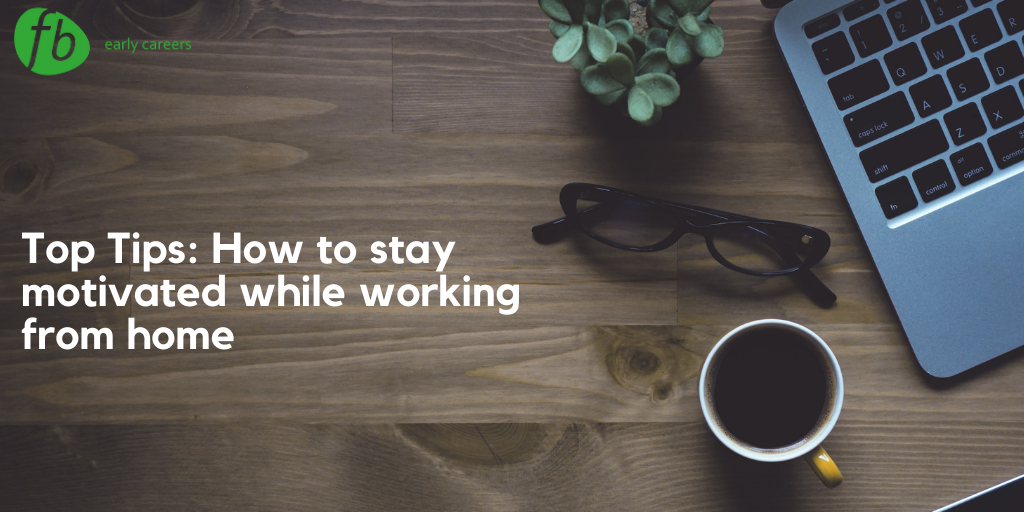 Are you one of the thousands of students studying from home full-time? Are you doing a virtual internship or facing a new job that starts with an online induction and a portion of your job being based at home for the foreseeable future?
Working from home can be a challenge. How do you stay productive and motivated? Read on for some honest tips:
Workspace – set up a designated workspace where you can focus on tasks without being distracted and have everything set up that you need for your work or study day – laptop, phone, notepad etc. Take time to make your desk inviting – a comfy pillow for your back, a motivating photo or quote you like to read, music close by for solo tasks.
Technology – make sure that you have a reliable broadband service and know how to access your company network and files. Know who to speak to if you have any IT issues
Get dressed! – wear work clothes if you are doing an internship – it's important to show your peers that you are taking your internship seriously. If you are studying, it's important to distinguish between study you do at your computer and social stuff you do online.
Working hours – work your expected hours and establish a routine. It is easy to let yourself work longer hours when you are working from home. When your work is over, shut down your laptop and leave your office/workspace to ensure you avoid burnout.
Structure – write a daily-to-do list setting out realistic and achievable tasks to help you maintain and keep focus. If this is your first internship, you might like to review this with your Manager to make sure you are prioritising in the correct way. Identify the three items on your list that you absolutely need to nail that day. This can really help focus the mind.
Communicate – contribute regularly to group meetings, chats, and emails. Talk about your work, bounce ideas, and discuss any work issues with others. It is good to talk and staying engaged has been proven to increase learning agility when working virtually.
Staying alert – know when to step away from your desk and take a break to refresh – a quick 30 second plank, walk around the block or stretching can prevent fatigue and keep your brain alert.
Support – ask for support when needed. We all have up and down days when working from home – don't be too hard on yourself if you find yourself demotivated. Notice the triggers and improve your self-awareness. Your colleagues are in the same situation as you, don't forget to contact your Manager for support.
Remember, it takes 30 days to create a new habit, 60 days to call it a routine and 90 days to call it a 'lifestyle'. These are new habits/skills you are developing – and you will use these for the rest of your working career.
If you would like to talk to a specialist consultant about the student job market or about your particular job search, then contact Karen at kb@futureboardconsulting.com
#workingvirtually #remoteworking #virtualintern #graduatecareers