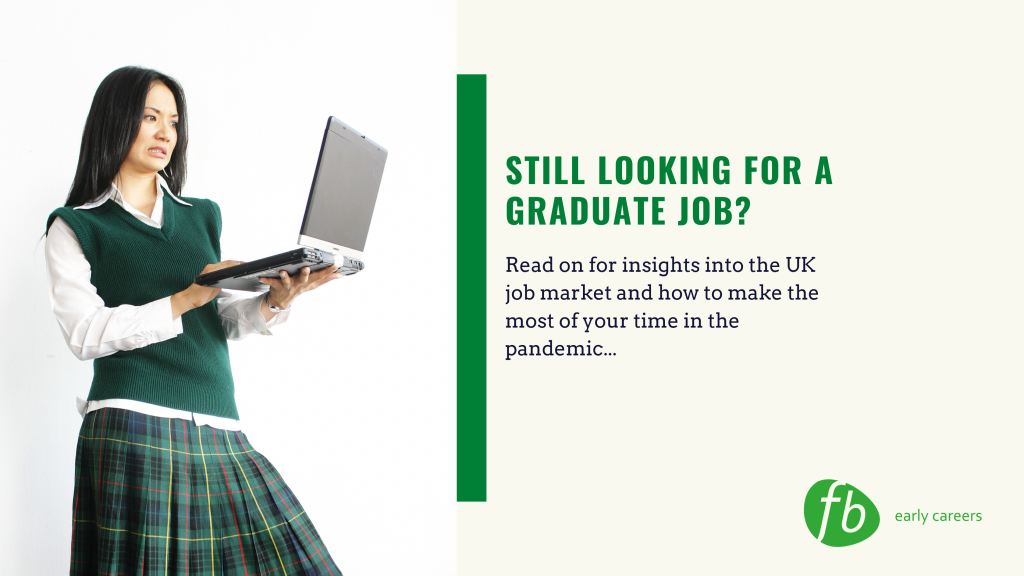 We are in the midst of a pandemic, the UK economy has slowed down, there are reports of companies rescinding graduate job offers. When the headlines are doom and gloom, it's easy to get disheartened and think you will never find a decent job, let alone your dream job.
Read on for some tips and insights on what you can do to stay motivated, stand out from the crowd and make the most of the challenges you are facing.
Know the facts – unemployment has risen, job offers have been rescinded, but there is still huge commitment from graduate employers to run their graduate programmes. According to the Institute of Student Employers and High Fliers Research, most graduate employers have not dramatically altered their graduate recruitment numbers. In the Global Recession of 2009, 50% of UK's graduate recruiters did not fill all their vacancies. There was and still is demand for highly skilled/talented graduates – so don't give up. There are still plenty of good jobs available.
Be proactive – make the most of this time, employers are looking for candidates with well-rounded CVs – that means voluntary experience, online experiences, coding camps, virtual internships all count towards building your CV and experience. Stay busy and proactive and make sure this is reflected on your CV.
Develop your soft skills – use this time to learn and develop your soft skills such as flexibility, resilience, communication, problem solving, and creativity. Much of academia is about knowledge; switch your focus to develop soft skills that will make you more attractive to an employer. Community projects, customer service roles, online self-development are ways to do this.
Virtual and micro-internships – these are going to become the 'new normal'. Many organisations are currently offering virtual internships, these are designed specifically to help enhance your career prospects, gain the business skills you need to succeed and help you decide what career direction you wish to take.
Self-development – universities careers services offer virtual support to final year students and graduates – keep checking in to see what roles are being advertised, see what advice and support you get for free – watch webinars, attend online workshops and practice your interview technique.
Self-awareness – candidates that can talk with a level of self-awareness always do better at interview. Take time to reflect on your strengths, ask others for feedback if you are unsure and understand ways in which you can build on these. Make the most of free online tools to better understand your working style tendencies. For example, 16personalities.com is easy to complete and produces great reports.
Stay open and expect rejection – you might not find your 1st choice role this year, but you may find a role that is a steppingstone to your ideal role. Stay open minded, look for complimentary positions and companies. Don't get disheartened when you get rejection emails or fail an online test/interview. This is part of the course – think of it as resilience building. All successful people experience failure – Bill Gates dropped out of Harvard, Steven Spielberg dropped out of college, JK Rowling was a low-income single mother prior to writing Harry Potter. The road ahead was never going to be a straight one…
If you would like to talk to a specialist consultant about the student job market or about your particular job search, then contact Karen at kb@futureboardconsulting.com.
#graduatecareers #selfdevelopment #earlycareers