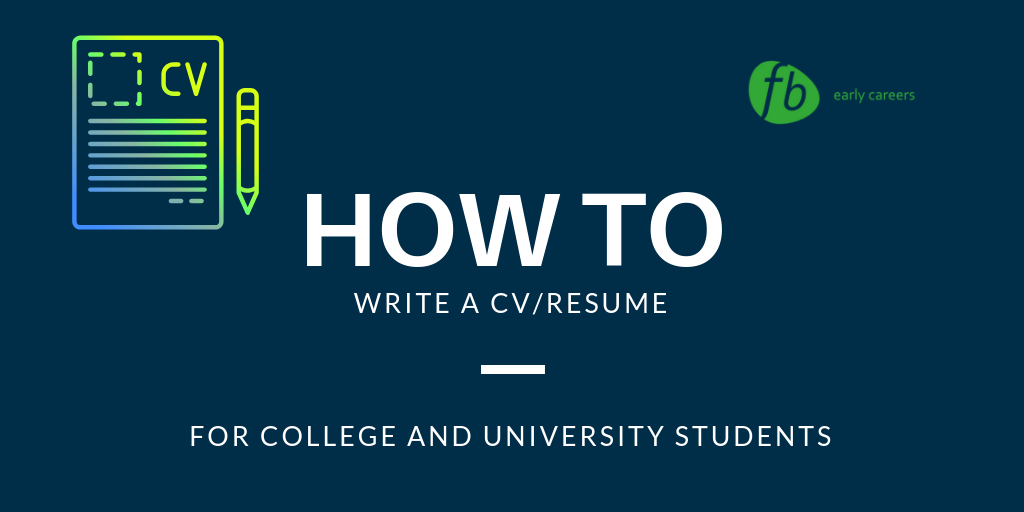 Many students at this time of year start dusting down their old CVs or start writing their first professional version.  We look at hundreds of CVs every week and as result, wanted to share some advice on how to write, structure and format a great professional CV.  Note, my advice would be slightly different for established professionals.
Top Tips
Never more than 2 pages long
Always proof read for typos
Use a clean, easy to read font, such as Arial or Calibri, size 11.
Never forget to include your contact details (you would not believe how often this happens!)
Always write in chronological order (most recent and work backwards) for each section
Always quantify your achievements
Make use of bullets to help keep your written communication succinct
The Structure
No need to over-complicate this. Keep to a simple, easy to read structure with clearly labelled sub-headings. The following is a good guide:
Contact details 
Personal Profile/Overview
Academic Background or you can call it Educational Background 
Employment History or you can call it Career History 
Extra-Curricular
Other Achievements
Personal Interests and Hobbies
References
What to Include
Contact details – it's okay to use smaller font for your contact details to use less space on the page, but you can make your name bigger and use colour for a more creative feel.  Remember to include term-time and non term-time phone numbers if appropriate.
Personal Profile/Overview – a short paragraph or set of bullet points that highlights your key skills and what career direction you are looking to take.  Make this personal and don't be afraid to tailor to a specific industry or role that you are applying to, eg "A recent graduate with a BSc in XYZ Engineering, I am dedicated to finding a career in manufacturing that allows me to use both my problem solving and people skills."
Academic Background or you can call it Educational Background – include all university and high school courses, dates and grades.  Remember to start with the most current and work backwards.  Most experienced professionals summarise this and place after Career History, but as a final year student or someone that has recently graduated, this is your major selling point, so it is important to put this section first.  Ensure you include important information that highlights your strengths and achievements, eg Achieved 1st in Dissertation or Dissertation being considered for publication or Class Rep for 3 consecutive years.
Employment History or you can call it Career History – a summary of all your work experience to date.  This should include paid work and any relevant volunteer or work experience placements. Work backwards from your most recent job and don't leave any gaps; these could could lead potential employers to suspect the worst. If you took a year out, say so. It could be useful to treat it in the same way as a job, indicating what your accomplished and learned in this time.  Potential employers want to see experiences such as McDonalds, a Next Saturday job or a bar job that you held throughout your college years – highlight what you learnt.  There is no need to go into huge detail -just one line is sufficient.
Extra-Curricular – this is a very important section for students. Please highlight any positions of responsibility, sports team involvement, committees you have participated in.  All these experience help demonstrate your areas of interest and the skills you have started to develop. Remember to include dates or duration of posts.
Other Achievements – this could be personal achievements that fall outside of academia and employment, eg Musical achievements, eg self taught piano for 5 years, or Grade 8 Flute or Duke of Edinburgh Gold Award.  Always remember to quantify such achievements, eg the time spent learning and what the outcome was.
Personal Interests and Hobbies – These are optional, but should you choose to include a section on hobbies and interests, keep it very brief. Avoid saying anything that could be contentious (e.g. political or religious affiliations), and wherever possible, use the space to show that you have varied interests and social skills that demonstrate that you are team player – eg been playing for Sunday League Football for 3 years.
References – Actual references are rarely included on CVs. It is usually fine to simply say 'References are available on request'.